I'm not just saying this. . . I do love this site.  I've mostly used it for photobooks. . . but also have ordered address labels, stickers, cards, prints. . . lots of stuff.  It has all turned out beautifully, but I especially love my books.
I will get a $25 credit by blogging about this. . . which will go towards my Greece photo book!  😀
Thanks to Sara and Nicole for sharing this with us!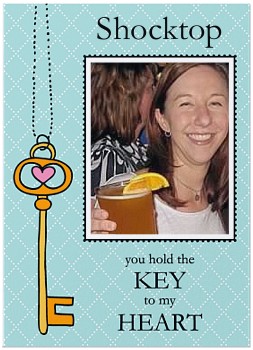 Key Heart 5×7 folded card
P.S.–None of the cards I've made worked for this promo. . . and I didn't want to do something sappy so I thought I'd express love for one of my favorite beers. 🙂
P.P.S–Anyone else want to do this, go here!